I won't support claimed trial of Civil Servant who allegedly insulted me, my mother – Dankwambo
The Gombe state governor, Ibrahim Hassan Dankwambo, has said that he will not support, even if true, a claimed trial of a civil servant who allegedly insulted him and his mother.
Governor Dankwambo said, in the first place, that he is not aware of such and if it is true, then he would not agree that such action be taken against the servant.
Governor Dankwambo gave the statement on Tuesday while reacting to news making the round in a section of the media that a civil servant who allegedly insulted him and his mother is standing trial for the act.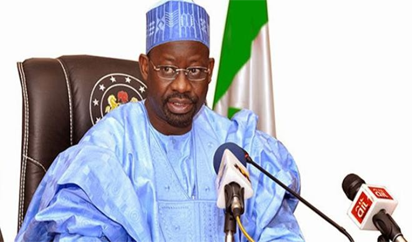 Dankwambo however said that as a democrat, he is in support of the freedom of speech and freedom after speech.
The Gombe state governor also warned those, especially his aides, using his name to intimidate people to stop honourably or he would stop them disgracefully. He also said he would launch an investigation into the claimed report.
According to him, "My attention has just been drawn to news making round the media that a Civil Servant is standing trial for insulting me and my mother. I am not aware of any such case. I will never support such an action which negates democratic standards.
"There are always overzealous aides and supporters who can't stand criticism of their boss but such actions will not be allowed in Gombe.
"Nigeria is a free nation and citizen's right to freely express themselves and hold the government accountable is one of the ethos of democracy.
"People insult & criticize me, my mother and family members on a daily basis but I have never for once taken action against them. Why now?
"I support freedom of speech and freedom after speech. Everyone in Gombe will testify to this.
"I Will direct an investigation into this.
"Those using my name to intimidate people who express themselves must stop. If they don't stop, I will stop them."
Source:https://www.vanguardngr.com/2017/09/i-wont-support-claimed-trial-of-civil-servant-who-allegedly-insulted-me-my-mother-dankwambo/