By Bunmi Sofola
IT was a trap Stella desperately prayed her husband of six years wouldn't fall into. "My husband, Steven, was taking a few days off work to allow builders to put finishing touches to the flat we just moved into," she said. "And one thing on Steven's mind was se x – with my older sister! He had no idea I know what was going on, but he had been having an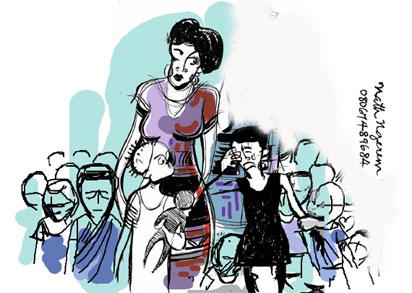 affair with Tope my sister, for the last couple of months. Now I was going to catch them at it – I didn't want to give them the chance to deny it or weasle out of it. It wasn't going to be pleasant but I had to do it.
"My plan was to leave the flat, keep watch up the road until she turned up, then I would storm in and confront them with their treachery. I didn't know which was more painful- my husband's betrayal or my sister's. It had come out of the blue. As far as I was concerned,
Steven and I had a happy marriage. We'd been together for seven years, and married for six. I thought Steve was my Mr. Right. He made me laugh, he made me happy – and he was good in bed.
"I'd met him when Tope and I worked as insurance underwriters in the same company. The MD was a bit of a drinker and there was always a lively after-lunch break scene. Steven was one of the regular customers who came into place covers for his clients. I'd always fancied him but I was sure he preferred my sister. Most men did. She was two years older than I with big boobs – and she was a real flirt. I am on the reserved side. When the two of us walked into a room, it was always Tope they noticed first, and she knew how to use this to her advantage.
"So when Steven started flirting with me while she sat next to me one night at a friend's birthday party, I was flattered. At 23, he was three years older and I lapped up the attention. After a couple of red wine I ended up kissing him in full view of everyone. This was very unlike me, but I didn't care. I really fancied Steven. He had a good job, his own flat and a nice car. That was more than most of the men our age have. The next day, he asked me out and we started dating.
"Not long after, I moved into his flat and we got married. For the next few years, we were blissfully happy. I went to college and got a diploma in Insurance so I would join Steven in his brokerage firm. The next chapter was to start a family. I couldn't wait. Sadly, my husband had other plans. He decided having se x with my sister was more important than starting a family with me.
"I should have suspected something was in the offing. Whenever there was a family do, Steven was always more keen to go if Tope was going. In my naivety, I thought it was a good thing they got on so well. Instead they were both playing me for a fool. I found out about their treachery purely by accident. My phone died when I dropped it in the loo by
accident, so I used Steven's phone to text Tope. But when I opened up his messaging app and clicked her name, my world fell apart. There were reams of messages between the two of them. And they were disgusting. It was like reading something ponography. I felt sick. I was hit by waves of disgust, panic and fear. How could they do this to me?
"They were the two people closest to me in the whole world and they were both betraying me. I thought I could count on them, but they didn't care about hurting me at all. My first thought was to confront him immediately, but I decided to bid my time. I wanted to see the fear in their eyes when I did. I managed to bury my rage, pain and hurt and pretend nothing had happened. Instead, I kept an eye on his phone to wait for their next sick session. And it came when Steven took time off to arrange the flat. I managed to sneak a look at his phone and it was right there. 'Can't wait to see you,' I had then! And after almost an hour in my car parked down the road, I saw Tope's car turn into our street. I waited ten minutes, then went over.
"My heart was pounding as I quickly opened the door. There were clothes strewn in the living room leading up to the bedroom. I hesitated. Did I really want to do this? Steeling myself, I tiptoed to our bedroom and flung open the door. `What the hell is going on?'I yelled. It was obvious, Tope, my sister had her top off and they kissing on the bed – My bed! Thankfully, they still had the rest of their clothes on. Tope looked up, shocked, `Oh my God, I'm so sorry', she stuttered, desperately trying to get her top bck on, `one thing led to another'. It's nothing serious'. `Sorry?!' I yelled at the top of my voice. `That's my husband you're in bed with'. I don't want your excuses, just get out of my house.
"She couldn't get out of the room fast enough but Steven just lay there saying nothing. 'Well?' I prompted. 'Well what?' he replied and reached over the bedside table to grab a cigarette. 'What have you got to say for yourself?' I asked, barely holding my anger in. 'There's not much to say now, is there?' he replied. I was shocked at how calm he was. 'You could try sorry,' I said, flabbergasted at his brazen attitude. I didn't know what I wanted to happen but I expected at least for him to beg for forgiveness. Instead, he just shrugged. 'There's no way back from this, is there?' he said matter-of-factly. 'It was always going to happen at some point. I've been in love with Tope since the day I first saw her. You were just like a consolation prize.'
I couldn't believe how cruel he was being. '0 come on,' he continued. 'You must have known. I only went after you when she turned me down. Did she never tell you?' His words were like punches to the stomach. Had my whole life been a lie. I turned and fled from his cruelty. If I'd stayed, I would have gone at him with a knife. Now I knew how easily
crimes of passion were committed. Confronting them had obviously been a mistake. I had expected them to be overcome with shame and both beg my forgiveness. I wasn't going to forgive them, but that wasn't the point. I wanted the power to take back some control. Instead my husband was turning the knife.
"But he was right about one thing – there was no way back. We ended up getting a divorce. Looking back, I had a lucky escape. Our parents were furious at Tope to say the least, but they couldn't disown her. However, I refused to be in the same house as her, so she wouldn't visit them while I was staying there. She constantly begs for forgiveness, but there's no way. She betrayed me in the worst possible way …. "
I Like The Way You Think? (Humour)
At a party, a man and a woman were playing guessing game. "What have I got behind my back?" the woman asks. "I'll give you a clue – it's round, red and juicy." "A tomato," the man calls out. "Wrong," the woman smiles. "It's an apple. But I like the way you're thinking. Now's your turn."
"Can you guess what I'm holding in my pocket?" the man asks. "I'll give you a clue – it's hard and has a head on it." "Oh, that's disgusting!" the woman splutters, embarrassed. "Wrong," the man replied, smiling. "It's a one-Naira coin … But I like the way you're thinking!"
" Source:https://www.vanguardngr.com/2017/10/painful-husbands-betrayal-sisters/
Others are reading